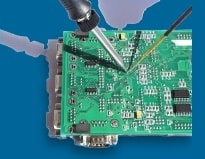 CUSTOMIZED DEVELOPMENT AND PRODUCTION OF INSTRUMENTS AND INDUSTRIAL ELECTRONIC EQUIPMENT


Why here?

Quality, timeliness of delivery, serious action and customer satisfaction are our top priorities.

Thanks to our many years of experience in developing equipment for demanding conditions, we design and implement equipment for operation in both industrial and military environments.

We offer the potential of a flexible company, we are not afraid to solve any technical problem.

We understand not only electronics, but we also focus on mechanical and 3D printing.

Due to the wide range of already implemented projects we practically never start from scratch, which brings considerable savings in design length and increases the certainty that the solution we choose will be correct.

We draw on practice in the development and integration of electronic systems and industrial automation equipment and special technology, which includes microprocessor, communication and measurement systems, sensors and their peripherals..

For each order we try to apply a creative approach - even in the case of generally defined requirements, we will help to specify the order in detail and offer possible solutions.

Based on the complete design, realization of functional samples and prototypes and testing, we will prepare the equipment for serial production.

In case of interest we will also supply production and service documentation.